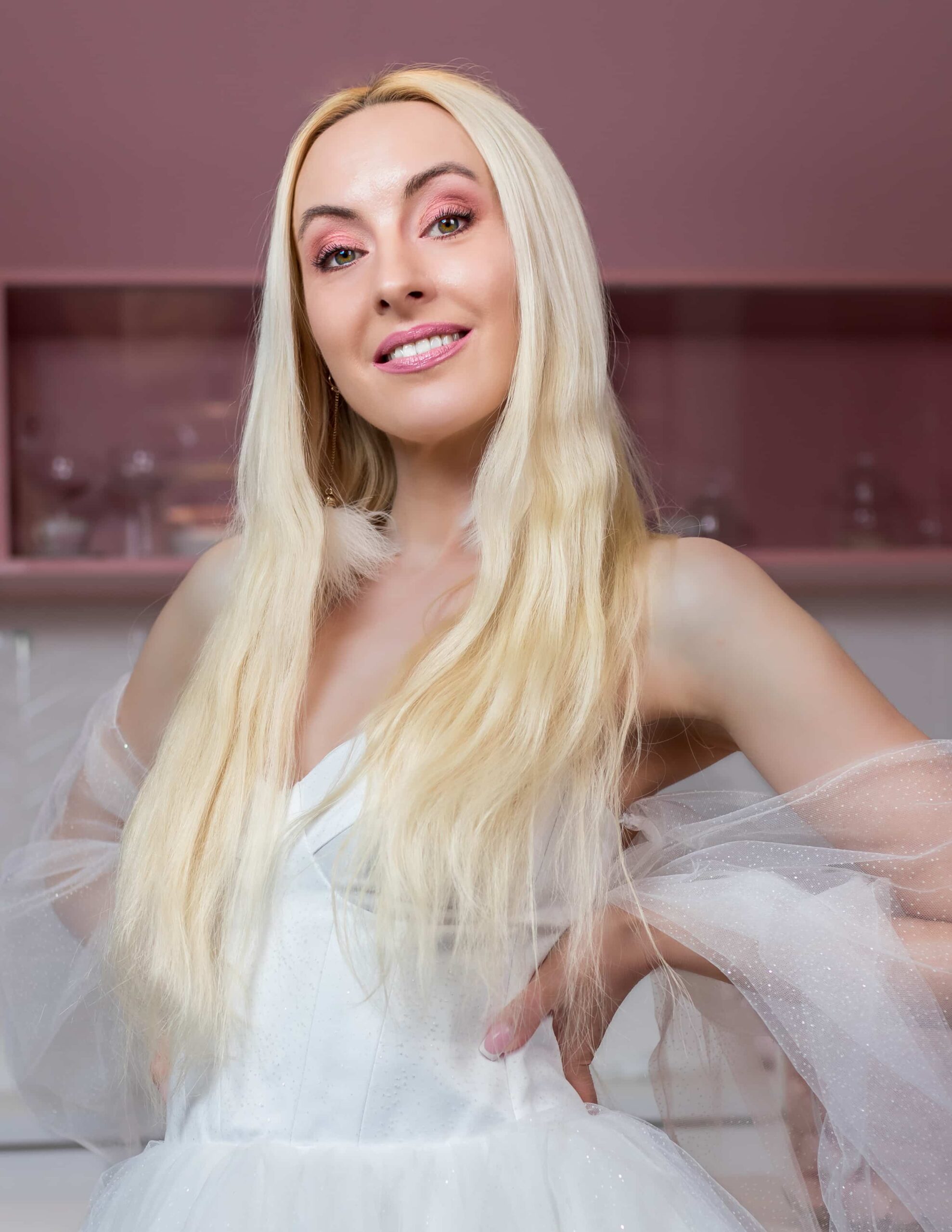 "In the world of fashion, dreams birth new identities. From model to designer, I discovered the power of making women feel like chic royalty through timeless, elegant designs."
Can you tell us more about your background as a fashion designer and your experience as an international model? How did you transition from modeling to designing?
I wanted to be a model, like most girls, but I became an engineer. Since my childhood, I liked to sew, dress beautifully and make my outfits. At the age of 40, I came to a fashion show by chance and de- cided that I also wanted to walk on the catwalk, pose beautifully, and came to a modeling school. I studied in 4 modeling schools at once and took the best from each. During my studies, I began to attend social events and fashion shows as a guest and model. A new stage in my life has begun. I have always dreamed of visiting fashion weeks in Paris and Milan, and when I was offered to participate in the spring fashion weeks in Milan and Paris in 2023, I agreed without hesitation. There I passed several castings and presented collections of different designers from different countries of the world. I went to Paris and Milan with a whole suitcase of my dresses, which I sewed myself, preparing for this important event in my life, and already there were many people, meeting me, thought that I was a designer. And then, in Paris I decided that I would return to Minsk and become a designer, and I would go to the next fashion week in the new status of a designer. But these were just dreams, I didn't even imagine that they would ever come true. Returning to Minsk, I continued my modeling training, came to sewing courses, and con- tinued going to fashion shows and events. And suddenly, after a couple of weeks, I was invited as a designer to show my collection in Minsk. I was very surprised, because only a few people in Minsk knew that I create my own images and sew my own dresses. I decided to show my dresses that I prepared for Milan and Paris, mostly 22 black dresses in the French chic style and called my first collection in French "Elegance Noir". I received a lot of positive feedback from colleagues, models, designers and fashion experts after this show, and I was invited to various events to show my collection.
You mentioned participating in fashion shows in Milan, Paris, Venice, Moscow, and Minsk. Can you share some highlights or memorable moments from these experiences that have influenced your design philosophy?
When I was a model and participated in shows of other designers, I understood what dresses women liked and even then I knew what to do, what dresses would be successful with women. This is the main philosophy of my brand – to create images that will appeal to all women feel like a chic Princess, Queen and a bright star without exception, regardless of age and status. Then I create my next collec- tion "La vie en Rose", where I used a lot of flowers. This collection is my dream, because since childhood I dreamed of such dresses, bright, airy and delicate, Barbie dresses, and all the girls loved this collection, because it is a reflection of our dreams, we all dreamed of being princesses as children, and now, wearing these dresses, women feel like real princesses.
Your new collection, "Stella Splendente," was presented at the Venice Film Festival. What inspired this collection, and why did you choose to debut it at this particular event? When I was invited to show my collection at the Venice Film Festival, I decided that I should create a completely different collection of dresses in the Italian chic style.

What is the central message or concept behind the "Stella Splendente" collection, and how does it reflect your design philosophy?
«Stella Splendente» collection was a real gift for all women be- cause it made all the models shine in these dresses, every model at the show wanted to try on all the dresses from the collection and take pictures in them. This collection was a success in Veni- ce and straight from the Film Festival we were invited to show it at another fashion show. This collection reflected the whole essence of my brand – all women felt like queens in my dresses.
Fashion is often a reflection of cultural and societal trends. How do you see your designs contributing to or challenging prevailing notions of beauty and empowerment for women?
My dresses are timeless, outside of cultural and social trends, they only take the best from each culture, in particular, in these collections I was inspired by Milan and Paris. Women are already tired of oversized, masculine outfits, they want femi- nine, bright and elegant dresses, so I create my own fashion.
Are there specific materials, colors, or techniques that you used in this collection to capture the essence of a "bright star" or to empower women through fashion?
I knew that Italians love black colour, so I made almost all the dresses in black, used Swarovski stones, feathers and a lot of glitter and called this collection of dresses "Stella Splendente" in Italian.
If you had to pinpoint a moment in your career, which one would it be?
A pinpoint in my career is participation in international fashion weeks.

In today's digital age, social media has become a powerful platform for fashion. How do you leverage social networks to showcase your designs and connect with your audience?
I actively manage my Instagram, post photos and videos of my shows, I have many subscribers from different countries, it turns out that everyone is interested in fashion – both women and men, and even those who are far from the world of fashion.
How do you stay inspired and continue to innovate in the ever-evolving world of fashion design? Are there any designers or artists who inspire your work?
I have a lot of ideas, I am inspired not only by famous designers, but also discover new young designers for myself by participating in world shows. My models are my inspiration, I see beauty in every girl, regardless of her age, height and parameters, I take not only professional models to my shows, but also ordinary girls who dream of becoming a model, I help them realize their dreams and not only to participate in fashion shows in Minsk, but also at international venues in the world's fashion capitals.
  What is the process of designing a collection like?
Now I'm working on my new collection, I want to make it special and unique. At the beginning, an idea appears, then I begin to implement it: I choose fabrics, prepare sketches, look for accessories, and then I start designing and sewing the product.

What is your career aspiration?
Do you have any goals planned?
My goal is to make women happy by inviting them to my shows and giving them opportunities to fulfill their dreams.

If you weren't a fashion designer, what would you have become?
If I were not a designer, I would continue to work as an engineer.
When you think about your style, what key components stand out as being significant to you?
My style is elegance, brightness and originality.

Balancing a hectic schedule filled with work, how do you manage to maintain equilibrium between work and your personal life?
I have always worked a lot, so it's common for me to negotiate with clients during the day, participate in shows, and sew dresses in the evening until late at night.
When you have free time outside of work commitments, how do you usually spend it?
I spend my free time with my f amily and also study foreign langua- ges; now I learn Italian.

What does fashion mean to Nataly?
Fashion is beauty, style and charm, I believe that a beautiful dress can transform any girl, that's exactly what I do, I sew beautiful dresses for women.

How would you describe yourself in three words?
Ambitious, bright, enthusiastic.
As an art educator, what do you find most rewarding about teaching fine art classes in the Washington DC area, and how does it complement your own creative journey?
So, teaching art I feel is a different part of me. I love to connect with people especially on matters of art. Art education is so essential and giving back to my students and my community through my expertise is very rewarding. Besides studying fine art, I also studied art therapy and positive psychology which all together contribute to the learning and educational experience.